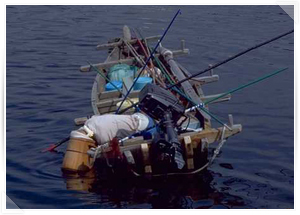 The sea is not only rich in resources such as marine products, but is also very important to human culture as a conduit for people, goods, and information. At the same time, the use of marine waters has led to confrontations and conflicts. The main objectives of this joint research are to investigate the historical evolution and current state of technology and knowledge (including social, folk, and written knowledge) for the use of fishing grounds amassed in Japan at the individual, local, and national levels, and to study the socio-economic and historical-folkloristic significance of fishing ground use from an interdisciplinary perspective.
Six specific research topics are envisaged:
technologies of fishing ground use (fishing gear and techniques);
folk and social knowledge concerning fishing ground use;
management and protection of fisheries resources;
conflicts over and regulation of fishing ground use;
diversity of the marine environment and functions of ecotones;
contemporary issues relating to fishing grounds (such as marine pollution and exclusive economic zones).
In each topic, a comparative perspective will be important. The joint research will adopt diverse frames of comparison. While differentiating clearly among sea areas (deep-sea, offshore, and coastal waters) and ecological environments (such as rocky shores and coral reefs), we will introduce the perspectives of historical and international comparison.

We will aim to conduct syncretic research that unites the methods of the human and social sciences (written history, folklore studies, cultural anthropology, geography, sociology) with those of the natural sciences while respecting the approaches of individual group members.
| | Name | Specialty | Affiliation |
| --- | --- | --- | --- |
| PL | TAWA Masataka | Fisheries geography | Kwansei Gakuin University |
| DL | YASUMURO Satoru | Folklore | Kanagawa University |
| PM | KAWAHARA Norifumi | Historical geography | Ritsumeikan University |
| PM | HASHIMURA Osamu | Historical geography | Tokyo Gakugei University |
| PM | WAKABAYASHI Yoshikazu | Fisheries sociology | Ehime University |
PL

-Project leader

DL

-Deputy project leader

PM

-Project member