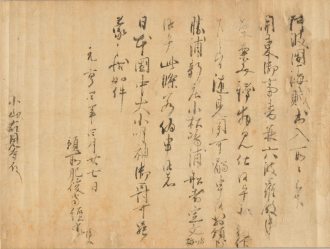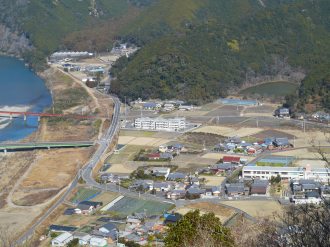 ■ A Draft Letter of Acknowledgment by Tsuneie Nitta (an archival document of the Koyama Family in Hisagi)  
■ A View of the Atagi Main Castle from Katsuyama Castle 
 The main focus of this study is the research and examination of archival documents about the Koyama Family in Hisagi, some of which have been found recently. A case study of the family will be conducted to reveal the existence and activities of the Kumano Pirates and the historical importance of the Kii Channel.
 Archival documents on the Koyama Family in Hisagi are rich in quality and quantity, and serve as a core of studies on the Kumano Pirates and the family. In this joint research, original documents on the family will be closely examined, sorted and published to make possible their wider utilization. These activities should enable us to reveal the family's relationships with other Koyama families in Nibu, Jinguji and Nishimukai, as well as the existence of the entire Koyama Clan, who exerted their power throughout the Kii Peninsula and the Kii Channel. Lately, numerous archaeological studies on the pirate clan bases and distribution system in the region have been carried out. We will look at the archaeology and the history of castles there, building on these past studies and applying an interdisciplinary approach to clarifying the historical significance of the Kii Channel.


Name
Specialty
Affiliation
PL
SAKAMOTO Ryota
Medieval Japanese History
Wakayama Prefectural Museum
PM
GOZA Yuichi
Medieval Japanese History
International Research Center for Japanese Studies
PM
HARUTA Naoki
Medieval Japanese History
Kumamoto University Graduate School
PM
KITANO Ryusuke

Japanese Archaeology
(the Medieval and Modern Periods)

Wakayama City Wakayama Castle Maintenance Planning Division
PM
SATO Junichi
Japanese Archaeology
Shirahama Town Board of Education
PM
SEKIGUCHI Hiroo
Early Modern Japanese History
Kanagawa University
PM
SHIRAISHI Hironori
History of Castles
The Society for Wakayama Castle Studies
PM
SONOBE Toshiki

Medieval History of Japan,
History of Village Communities

Yamagata Prefectural Yonezawa Women's Junior College
PM
TAKAHASHI Osamu
Medieval Japanese History
Ibaraki University
PM
YUMIKURA Hirotoshi
Medieval Japanese History
Wakayama Prefectural Toin High School
PL-Project leader PM-Project member